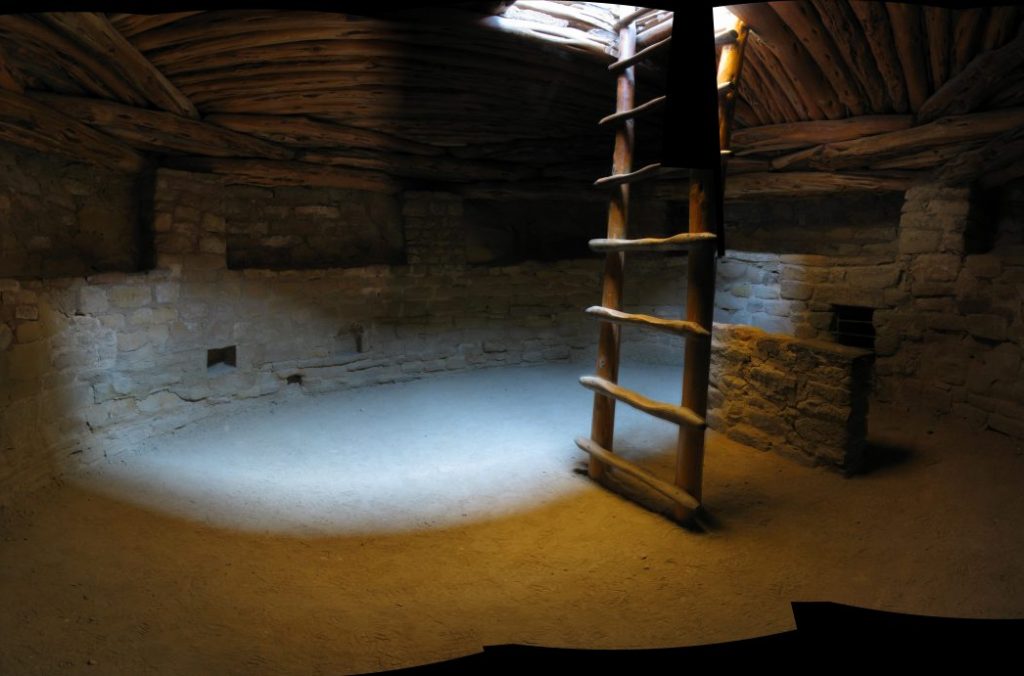 "All of us carry within us caves; with animals and gods on the walls; a place of ritual and magic." ~ Gary Snyder
Long before men retreated to suburban basements lugging flatscreen TV's, overstuffed recliners, chips and beer, they descended into subterranean caves carrying ritual masks, paint kits, drums and flutes. On the surface, the comfortable escapes inhabited by 21st century men seem worlds apart from the dark, stoney initiation chambers fashioned by their ancient brothers. The carpeted contemporary cave and the jagged cleft in the earth, however, share common foundations in the male psyche.
I recall my first encounter with a prototypical male cavern in a remote area of New Mexico. On a scorching August afternoon, I strode across the parched earth towards a log ladder poking skyward from the ground. The glare of the sun was so intense, I had to shield my eyes. A torrid breeze did little to help, as beads of sweat rolled from the back of my neck down my spine. In the surrounding trees, I heard the constant drone of insects. When I reached the ladder, I grasped the side rails and lowered myself rung by rung through a 24-inch square opening until I found firm purchase on the clay floor of the kiva.
This interior space was the yin to the upper world's yang. Harsh sunlight, baking temperature, a hot wind and roaring insects had given way to darkness, cool stillness and silence. The chamber's circular shape gave the impression of an edgeless spaciousness. Soon my breathing slowed, my shoulders relaxed, and my mind eased into restful awareness. Every part of me felt welcomed by this place. I was home.
In the murky light, I made my way to the earthen bench that ran along the curved wall of the kiva. Settling into the darkness, the shaft of sunlight  flooding through the square opening was decidedly masculine, like a sword piercing the space—while the kiva was like an architectural womb.   In C.G. Jung's theory of the collective unconscious, the feminine side of a man needs to come into greater awareness, and many of our current problems today stem from men being out of touch with their feelings and this feminine aspect of themselves. This kiva provided a womb-like setting for me to engage my relationship to the feminine, which Jung called the anima. I hadn't come here with the intention of having such an encounter, but this subterranean cavern had a profound effect—one that was impossible to ignore.
Dropping into the silence of the kiva, I sensed the forces of birth and death, order and chaos, conscious and unconscious, meaning and absurdity, reason and imagination and other opposing forces stirring within my psyche. The kiva called me to go beyond the describable limits of thinking, into ineffable depths of being. This experience was at once simple and profound, settling and unsettling, strange and familiar. My senses were fully alive. The muffled whoosh of my breathing and the quiet scrape of my fingertips on the clay bench resonated in this enclosed space like temple bells. The feeling of the adobe wall against my back felt strong, stable, comforting. I was serene and radiantly awake.
In my explorations of world architecture, I am consistently drawn to cave-like spaces. Our Lady of Chartres, the magnificent gothic cathedral outside of Paris, has a dark, cavernous interior where stained glass windows glow like jewels displayed on black velvet. The church is an elaborately constructed womb where I have had clear and powerful encounters with the feminine. Inside the western entry doors of the cathedral is the famous labyrinth, embossed in the limestone floor.  Treading its twisting, turning path I am reminded that life does not always proceed logically and rationality, nor does history unfold in a straight line.  Here I sense the earthy, fluid, receptive and intuitive forces at work in the unconscious, and at work in the world. The parallel to the piercing masculine in the kiva is the enormous rose window that seems afire on the west wall of the cathedral.  The labyrinth and the rose window are juxtaposed in an architectural marriage of masculine and feminine forces.
When these opposites aren't acknowledged, a place lacks meaning and vitality, as in the contemporary cathedral of Evry, near Paris. Inside the building, I found a circular space flooded with brightness from the skylight covering most of the ceiling. This church was so overly illumined that it felt like a cafeteria. There was no depth or mystery. I longed for the dim lighting and glowing stained glass of Chartres Cathedral that  provides layers of shadow, containing the elusive secrets of creation.
What happens when we apply this mythology to the  modern man cave? The flat screen television is the major focal point of the typical basement escape. It is here we watch our masculine rituals of  triumph and defeat, and see our heroes on the playing field overcome great obstacles in dazzling color.  This is a scene that would be familiar to the Greeks, who also knew a thing or two about framing.   
On a bright November morning, I climbed the hill north of the harbor on the island of Naxos.  My eye was immediately drawn to a rectangle of white marble standing amidst the ancient ruins of a temple dedicated to Apollo. Moving closer, I felt dwarfed by this  20-foot tall, 12-foot wide white stone frame. Standing in this colossal gateway, I looked up a patch of dazzling blue Mediterranean sky. Within this geometric space, I saw what I can only describe as energy, trembling without moving, rumbling without making a sound. The moment was charged potent like the instant before striking a match in a dark room or before the first stroke of the violin pierces the silence of a concert hall. This marble frame pointed my awareness beyond itself to something larger and more mysterious, and  I suddenly understood that great architecture, design and art call us to go beyond a physical space and enter a transcendent realm.
Cinematographers rely upon the power of the frame to convey a change of character or fate.  In The Shawshank Redemption, Andy has been planning his escape for prison for years; he has dug a tunnel from the wall of his cell into a sewage pipe, and finally crawls to freedom through 500 yards of shit-smelling filth.  As he emerges from this underworld, he tears off his prison shirt and raises his arms skyward toward the pouring rain. For a moment, he is standing in that frame that promises new life and liberation.  
Men have such experiences in their creative lives today, whether they are writers, artists, scientists, entrepreneurs or craftsmen.   
Men need a place to escape the world of daily responsibility. This is in our DNA – this need for an archetypal passages to underworld, for an initiation into caverns and dark womb-like spaces. We need dens where we can confront our fears, where our innermost powers can be strengthened and renewed. Formalized versions of masculine caves, men's clubs in New York and London, sought to replicate this too, with their rules against talking or doing any business on the premises. Men aren't allowed to bring their briefcases into the bar or library. They must be checked. This is for good reason! We need to have a least one portion of our lives that isn't dictated by the God of Economics.
I recall Virginia Woolf's advice that each woman needs "a room of her own" in order to discover her own creativity. For centuries, men have relied on that tradition. Sometimes that room is a library where books become sacred portals; an atelier, where they draw or paint; or a workbench, where they make something beautiful and useful.
As an architect with great concern for "interiors," I encourage men to establish a place where they can encounter the Muse and explore the depths of their creativity.
My own private space revolves around my writing and drawing desk. Beside my computer, I have placed a small brass Tibetan bowl-shaped bell, a wood Native American flute, and some brushes and paints. On the wall are photographs I've taken during my travels to sacred architectural sites, and some of my own sketches. Here I leave behind daily concerns and dive deep into the cave of my imagination. Like the kiva, my room is a dark and womb-like place. Like the Rose Window at Chartres it reminds me of that "aha" moment of illumination. And like the ruins at the Greek temple of Apollo, it provides a portal to another world.
Anthony Lawlor is an award-winning architect and author of The Temple in the House and A Home for the Soul. His work has been featured on National Public Radio, The Oprah Winfrey Show and numerous other media outlets. He is currently exploring the possibilities of sanctuary at his cottage in northern California.